I love dice
Let me rephrase that. I love dice. All sorts of dice. From traditional six-siders to the 100-sided Zocchidecahedron, and everything in between. (Well, I love you, too d4s — except when you fall on the floor and become caltrops).
Custom dice. Standard dice. Colored dice. Clear dice. Dice within dice. I have a mammoth collection of dice. My collection had grown so large that one year Trish bought me a wooden treasure chest with a removable dice tray as a gift. It was soon filled and overflowing. So then came the Plano boxes, and then the multi-drawer storage units (with a different drawer for each die type, of course).
My fascination with dice started at a young age with Dungeons & Dragons, as it does for so many people. It was my introduction into a whole new realm. Oh, there were dragons and dungeons sure — but the realm of possibilities opened up. You could have dice with ten sides? Twelve sides? Whoah, even twenty sides?
Like Magic: The Gathering or Puerto Rico, it was the sort of game experience when… suddenly I view games completely differently from that point on. D&D changed my outlook on what dice do, and more importantly what dice could do.
I still own my very first set of dice for D&D. They're old, blue, the edges are chipped, and there are gaps in the numbers where the crayon rubbed off. Yep, back when we had to hand-color the numbers on the dice faces with crayon…
Fast forward a few decades. (God, I really am that old. Decades, people, DECADES)
Designing with Dice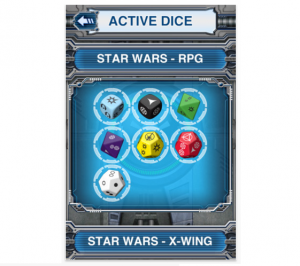 My love affair with dice is definitely evident in my game designs. I love seeing what dice can do, how they can interact, the sort of impact they can have on the game — and the players. Many of my recent projects prominently feature custom dice, allowing for specifically tailored results…
X-Wing Miniatures uses custom attack and defense dice to simulate the rapid pace of a Star Wars dogfight, and the two types of dice interact to determine whether or not a ship hits another ship during combat. Blood Bowl: Team Manager features special dice for tackling, and provide a tense moment as players see if they knocked down their opponent — or got knocked over, instead! Warhammer Fantasy Roleplay introduced custom dice that even took into account how reckless or conservative a player was being, as their decisions would change the composition of their dice pools, and thus the outcomes of their actions.
Star Wars: Edge of the Empire RPG also uses a set of custom dice with symbols instead of numeric values to represent all sorts of different things. Setbacks and advantages. Skill training and raw ability. Dangerous opposition and complications… and The Force. The combination of dice types and results they can generate on any given roll. Well, there are so many possible outcomes it's almost incalculable.
There's even a great dice app available to simulate the physical dice. And as apps get more sophisticated, virtual dice get better and better at simulating actual dice. They make the sound of dice clacking together. Or you physically shake your iPhone or tablet to "roll" the dice. They are interactive…
My Precious…
But a handheld app or set of virtual dice will never replace real dice for me. I love dice I can see, touch, and hear (yesss… the dice, they talk to meeee… my precious…). I have my favorites. I may roll the blue ones when I attack, and the red ones for damage. Or I only use the smoky black dice when I play a Film Noir style game, while the dark purple and green swirly dice are reserved for Call of Cthulhu only. No other game gets to use those dice.
Real dice are associated with real stories, or have relationships developed by real events and real memories. You remember the awesome roll you made when you barely had a snowball's chance in hell of pulling off some crazy stunt. You remember when all you had to do was roll anything but snake eyes to succeed, only to roll snake eyes and fail.
Yes, dice can provide numeric data or information that informs a game mechanic in order to determine success or failure, or something else that sounds very formulaic and mathy. But dice also provide much, much more! Which I'll discuss in Part 2!
Cliffhanger!
In closing: A fistful of actual dice is a thing of beauty.