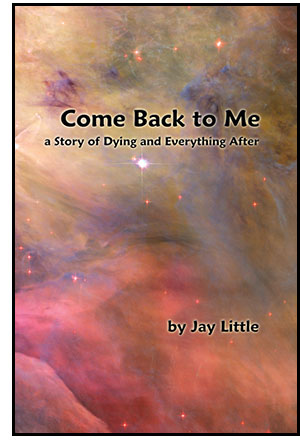 Sometimes truth really is stranger than fiction. If someone would have told me at twenty-one what life would be like as I approached forty… I would have laughed them off. Well, I'm not laughing now. My new book Come Back to Me is now available in softcover and eBook formats through Lulu.com, Amazon, Apple iBooks and Barnes & Noble's Nook.
Get your copy of Come Back to Me now:
Product Details
ISBN 978-1-105-48350-9
Pages 178
Perfect-bound
Paperback Weight 0.71 lbs.
Dimensions (inches) 6 wide x 9 tall
Here's the back cover text from the book, summarizing what you can expect to read inside.
I died on Tuesday afternoon, May 24th, 2011
I had just suffered sudden cardiac death. Yet somehow, I was revived, shocked back to life. Afterwards, a combination of amazing doctors, nurses, and technology worked on restoring my physical body. Even after resuscitation, I was in critical condition, hanging on by a thread. Meanwhile, my mind wandered aimlessly through the dark corners of oblivion for weeks. Against all odds, I survived. My physical recovery was called "miraculous" and amazed everyone. But my emotional, mental, and spiritual recovery took much, much longer. Looking back on it now, I'm convinced my survival all started with a kiss and a whisper … come back to me.
I wrote my amazing story down in book form. It is a story about a 38-year old man who suffered a massive heart attack – my second in eight months – followed by a number of serious, life-threatening complications. It is a story of the frightening obstacles and powerful miracles encountered along my path to recovery, using a unique blend of perspectives. Throughout my recovery, my wife kept a detailed journal chronicling the objective aspects, such as specific dates, medical issues, and milestones. Kept under sedation for several weeks, and still groggy from the medication and physical ordeal for months afterward, I provide a very different, subjective look at my recovery – how I was feeling, what I experienced, and what I've learned from these events.
At times, writing this book allowed me to look back and find the silver linings and even moments of humor along the way. More importantly, this book forced me to acknowledge and accept these events so that catharsis could do its job. That process of coping and recovering is much easier to do now that the worst of the danger has passed and life has returned to as normal as it will ever be again.